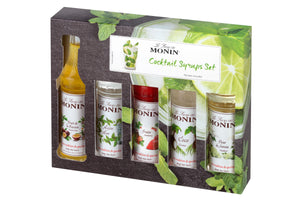 Made with the finest ingredients and authentic flavours, Monin Products are made with a total commitment to quality, and providing flavour solutions.
MONIN COCKTAIL SYRUP STARTER PACK
All cocktail essentials in a gift set! 
Flavours Included:
MONIN Passion Fruit 1 x 50ml
MONIN Mojito Mint 1 x 50ml
MONIN Strawberry 1 x 50ml
MONIN Coconut 1 x 50ml
MONIN Elderflower 1 x 50ml
For your inspiration, you will find many recipes inside you can try!
There are 12 packs of 5 bottles per case, each bottle is 5cl.